50% of Canadians get their financial advice from family and friends; banks follow close behind: survey
Key takeaways
of Canadians say family and friends (including spouses/partners) are their number one source for financial advice, with banks (49%) and social media (39%) following close behind.
of Canadians last sought financial advice due to the increased cost of living and inflation. Another 26% did so because of rising interest rates.
of Canadians feel like their finances are out of control, with those ages 25-44 most concerned.
Over the last year-and-a-half, the cost of living in Canada has skyrocketed. And with every rate hike the Bank of Canada makes, big-ticket loans become harder to manage for the average Canadian. Inflation has eased, but not to the Bank's 2% target just yet, and the 25-basis-point overnight rate increase earlier in July isn't going to make finances any easier to handle.
The big-picture statistics are bleak. Nearly one-in-three Canadians aren't able to pay off their debt. Grocery costs remain high, and are projected to keep rising. And many variable mortgage holders have reached their trigger rates. With such a heavy financial weight to bear, it's understandable that many Canadians would be seeking guidance.
In fact, a new WealthRocket survey of 1,200 Canadians ages 18 and older reveals that 49% have sought financial advice within the last 12 months. And the top three places they're turning to for that advice are family and friends, their banks, and social media.
50% of Canadians get their financial advice from family and friends, followed by banks and social media
According to the survey results, half of Canadians (50%) say friends and family — including spouses/partners — are their go-to source for financial advice.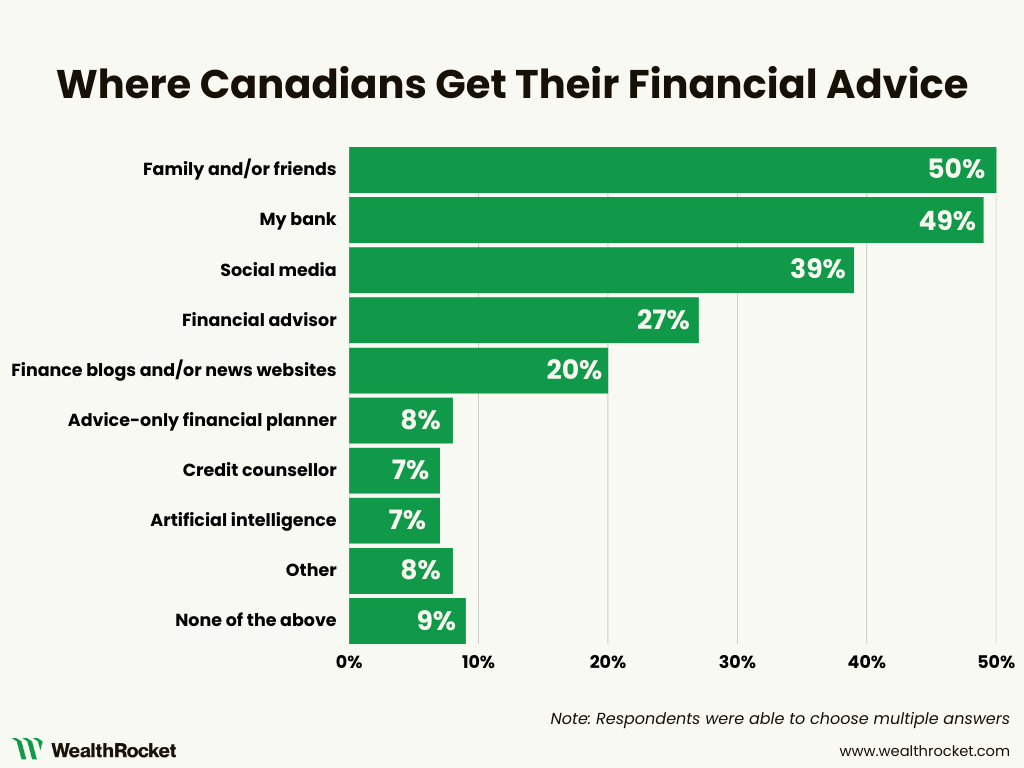 While this may be a natural starting point for many, particularly for couples who consult with each other about shared expenses, it doesn't come without its drawbacks.
"Unless your friends or family have a background in financial planning, it's probably not a great place to be going for financial advice," says David O'Leary, chartered financial analyst and WealthRocket's personal finance expert. "There are a lot of misunderstandings about how things actually work."
Nearly the same number of Canadians (49%) turn to their bank for financial advice. And while there are often smart and qualified people working at the country's financial institutions, it's important for Canadians to be aware of the bias they might be receiving when they consult their bank.
"The advisor at a bank is more often a salesperson upselling and cross-selling different types of products," says O'Leary. "There's a lot of pressure internally to sell the bank's products and services as they're giving advice."
As a result, you may leave with a less personalized experience. In fact, a recent J.D. Power study revealed that only half of Canadians who got advice from their bank thought it was effective. And their overall level of satisfaction decreased by four points from last year's study. Expecting your bank to meet all of your financial needs might not be realistic. Instead, searching for tailored advice independent from your bank could be more beneficial.
But far fewer Canadians get their financial advice this way. For instance, only 27% say they turn to an independent financial advisor separate from their bank. And significantly fewer (8%) go to an independent advice-only financial planner. The use of both advisors and planners is highest among young adults between the ages of 25 and 34 — typically a period where finances start to become more complex. One-third (33%) of respondents from this age group say they use independent advisors and 14% say they use advice-only planners.
There's an important distinction between these two titles, though. "Most financial advisors help you invest the money you've saved," says O'Leary. "And then they get paid a percentage." For example, an advisor can help you decide whether to buy stocks, bonds, ETFs, or mutual funds, or whether you should invest in real estate. But they will benefit if you choose to invest it with them. "Whether you go to your bank or an independent financial advisor, you're probably only getting investment advice."
Advice-only financial planners, on the other hand, operate on a fee-for-service model and "cover nearly every other question people have about their money, but they don't sell products or get commissions," says O'Leary. Like how much money you need to retire or buy a house, or even how to approach finances as a business owner. "These two fields (financial planning vs. investment advice) don't have a ton of overlap, so doing your own research when finding a financial professional is usually the best thing you can do."
For one-in-five (20%) Canadians, that research includes consulting financial blogs and news sites. For another 7% to 8%, it involves turning to a credit counsellor, artificial intelligence, and other sources not listed, like YouTube, TV, podcasts, and books. And for 39% of Canadians, it means consulting social media platforms like Twitter, Reddit, and TikTok.
39% of Canadians use social media for financial advice despite 26% saying it's not a trustworthy source
Though more than a quarter (26%) find social media to be an untrustworthy source of financial advice, 39% of Canadians say they use it for just that.
The social media platforms respondents could choose from in the survey were:
Reddit (11%)
TikTok (8%)
Instagram (7%)
Twitter (7%)
Facebook (6%)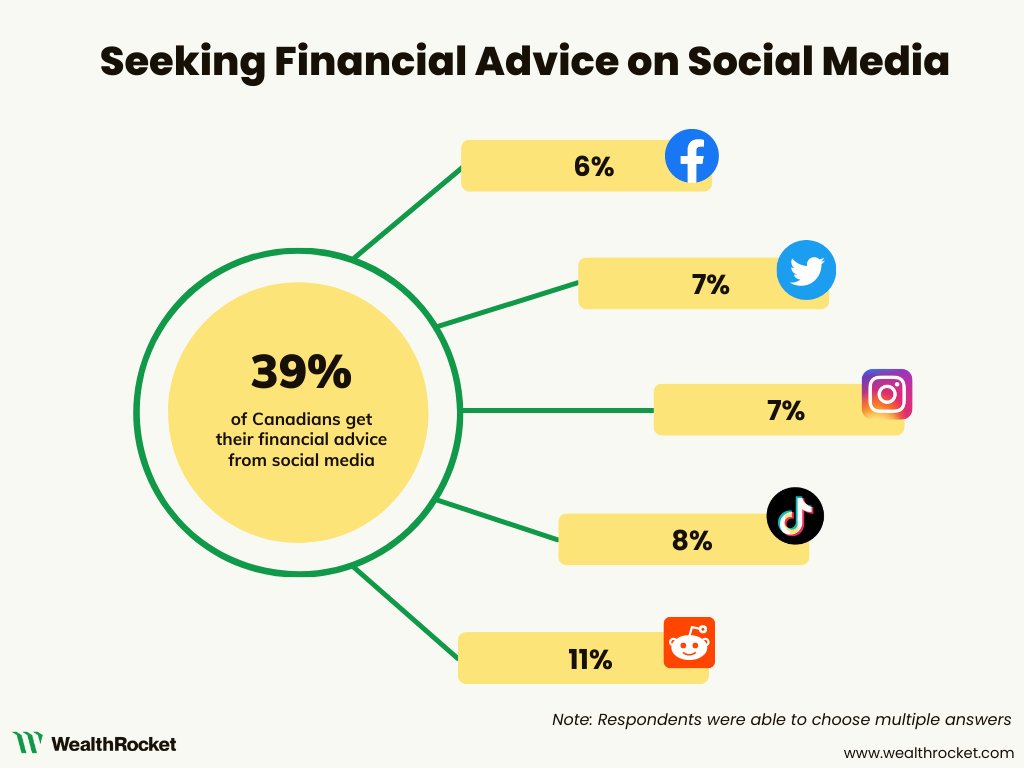 Those most likely to use social media for financial guidance — and trust it — are younger Canadians within the 18-to-24 and 25-to-34 age groups, generally expressing the highest usage across the board for each platform and overall trust. Respondents between 18 and 24, in particular, put the most trust in social media, with 9% finding it "extremely trustworthy," compared with only 5% or less of every other age group feeling the same.
Reddit emerged as the most popular social platform, with 11% of respondents saying they use the site for financial advice. Founded in 2005, Reddit has become a well-visited source for financial advice in Canada, with some boards, like r/CanadaFinance and r/PersonalFinanceCanada, boasting thousands to more than a million members, respectively.
Most respondents (36%) report feeling "neutral/unsure" about the trustworthiness of financial advice from social media, suggesting mixed feelings about the validity of information found in forums, groups, and on "finfluencer" accounts.
Despite the pause Canadians feel toward the space, social media is their third-most popular source for financial advice — perhaps because it's less committal and less intimidating. Users can anonymously or privately seek guidance, rather than airing out their financial laundry face-to-face with a planner or advisor.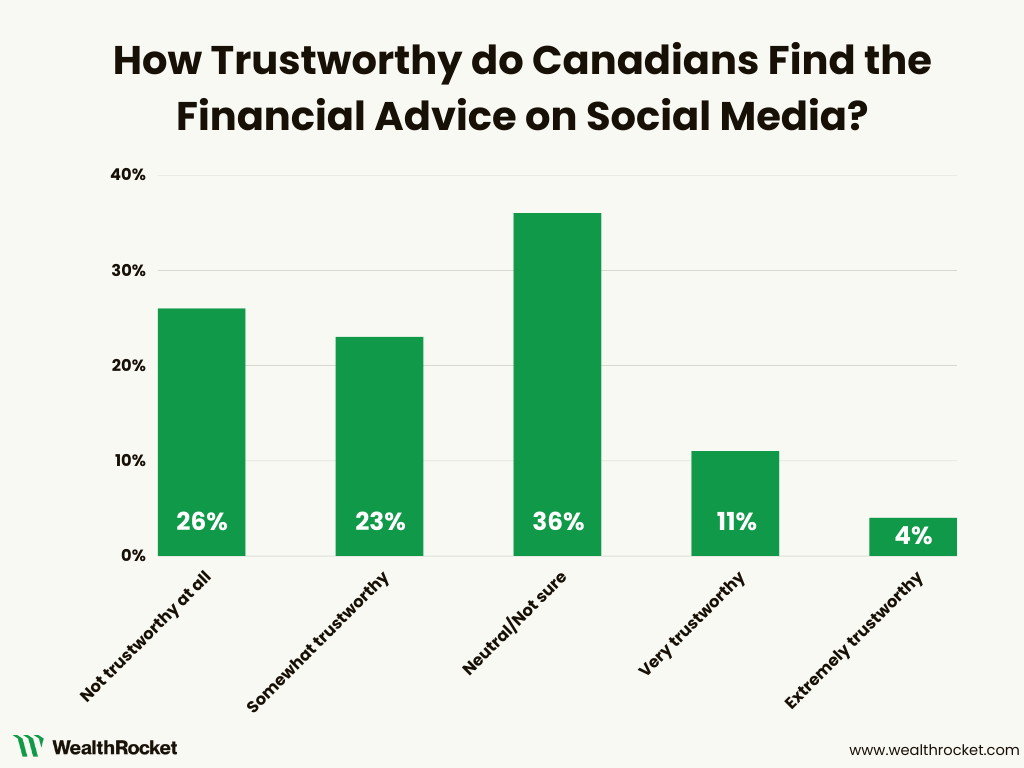 Leisse Wilcox, the strategic life and business coach behind the self-titled Instagram account, @leissewilcox (22K followers), has seen this first hand. "Money is still one of the great taboo subjects," she says. "So while I find people less open to commenting, my DMs have seen an uptick in conversations."
Wilcox focuses on helping women make better money decisions in their personal and professional lives. And she says she's noticed an increase in both followers and engagement over the last year.
Then there's FinTok (financial TikTok), a money-based online community including Canadian accounts like @nobudgetbabe (1.6M followers), @moneywithcass (131.4K followers), and @twogirlsinvesting (51.3K), who've gained large followings for their first-person commentary on a range of financial topics.
"I really saw my following start to grow when I started posting step-by-step instructional videos on how one could start investing," says Cassandra Melo, the creator behind @moneywithcass.
"People like to ask me the golden question: 'What should I invest in?' which I can't answer," says Melo. "You have to do your own research."
Rather than providing specific advice, Melo breaks down basic concepts so people can go and make their own financial decisions. "At the end of the day personal finance is personal," says Melo. "If someone is sharing information about an investment, ETF, or index fund, use that as your first step to then do more research. You have to know your own risk tolerance. You have your own goals and financial priorities."
O'Leary echoes this. "There can be good advice on social media," he says. "Reading up on Reddit boards and hearing what other people are doing can be a good way to open your eyes to other opportunities. But you have to be highly critical of what you're viewing."
There's a wide range of quality when it comes to financial content on social media so if you're not careful, you could be following illegal or inaccurate advice. "I don't know that a lot of non-experts are well-positioned to try and suss that out," says O'Leary. "That's the challenge."
In 2021, the B.C. Securities Commission began cracking down on the kind of investment advice users can and can't promote on social media. People can't post misinformation that could influence someone to buy or trade a specific stock, and they must reveal if they're being paid to promote it. The U.K. has even gone so far as to regulate investment and cryptocurrency memes.
37% of Canadians last sought financial advice because of the increased cost of living and inflation
The high cost of living and rate of inflation are why 37% of Canadians last sought financial advice. Other reasons include wanting help with investments and/or wanting to start investing (29%), rising interest rates (26%), and needing help getting out of debt (21%).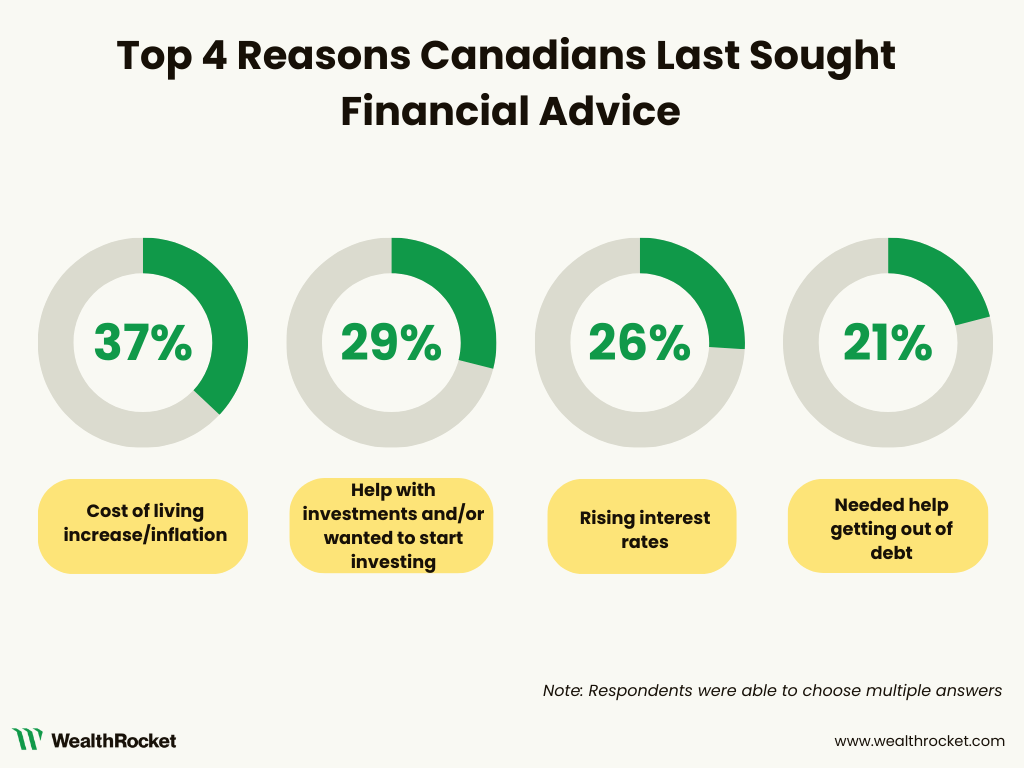 Retirement planning is why 19% of Canadians last sought advice, followed by a change in employment (16%), change in relationship status (10%), and receiving a financial windfall (7%).
And 9% of respondents listed their own reasons for when they most recently sought help, including helping support older family members, improving their credit score, becoming a new homeowner, mortgage renewal, and student debt.
Most respondents (49%) say they sought financial advice within the last 12 months, potentially signalling the need for help navigating more recent nationwide financial challenges, like inflation and higher mortgage payments.
"Where I see people needing help the most right now is around homeownership," says O'Leary, who runs Kind Wealth, an advice-only financial planning business. "Higher interest rates are leading to challenges with maintaining mortgages, both among my existing and prospective clients."
Many homeowners, for example, don't know whether to stick around or sell. "These conversations are very common now in a way that I've never seen in my career."
Nearly 1-in-5 Canadians feel their finances are out of control; millennials struggling the most
Close to 1-in-5 (19%) Canadians feel like their finances are currently out of control, with millennials in particular having the hardest time. More specifically, 22% of those within both the 25-to-34 and 35-to-44 age groups report feeling like their finances are out of control — the highest of all the cohorts surveyed.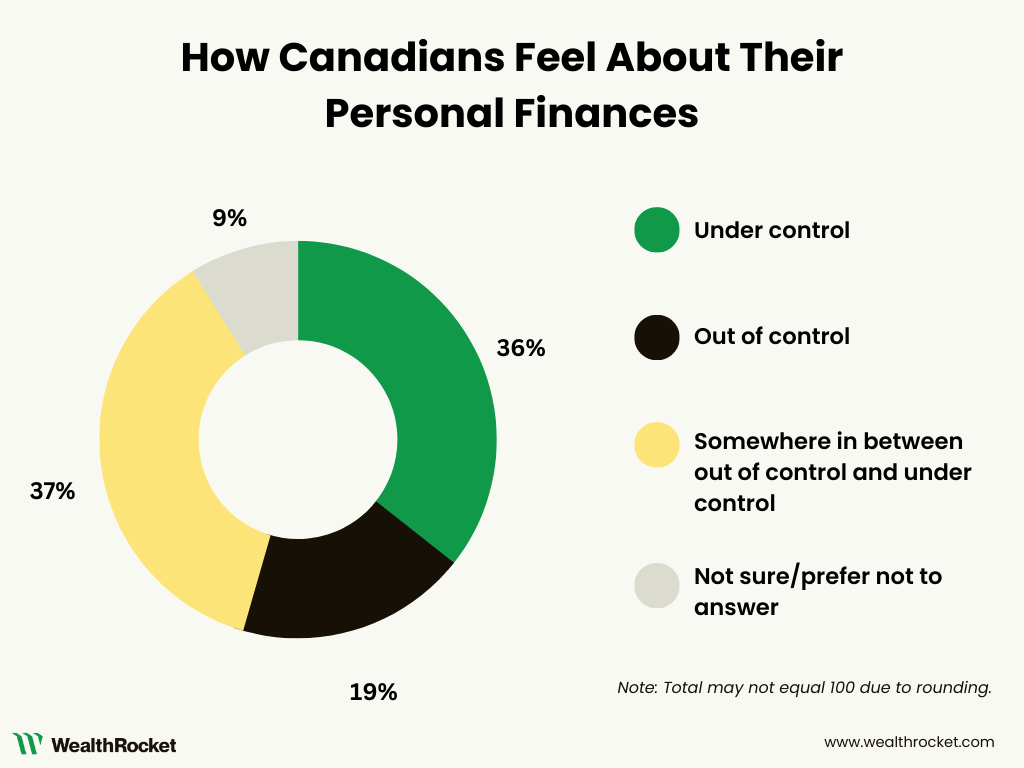 Many in these age brackets entered the workforce right after the 2008 global financial crisis, making solid work harder to secure. Stagnant wage growth, the rise of less stable gig economy career paths, and the impact of interest rate increases compound this struggle.
"Financial planning is a responsibility that's fallen on younger generations more than it did on baby boomers or the generation before," says O'Leary. Older generations typically held one job for their entire career and earned a pension to financially support themselves later in life. "Today, very few people have an opportunity to participate in a defined benefit pension. They're responsible for figuring out how much money they need to have saved by the time they retire."
That said, 36% of Canadians feel their finances are under control, and an almost-equal number (37%) feel they lie somewhere in the middle of the two extremes.
"Most people who feel like they have it under control are still likely not making the most of their wealth," says O'Leary. Virtually anyone can benefit from qualified financial advice, whether you feel in control of their money or not. So long as you're willing to face your finances head-on.
"Financial pressure and anxiety can lead you to make poor choices, like sticking your head in the sand or avoiding looking at your statements," says O'Leary. "If that's happening to you, recognizing it is an important first step to dealing with it."
O'Leary recommends starting small. For example, using a budgeting app can help you become more aware of how much money you have and where you spend it. If you want in-person advice from a professional, consider the commitment level you're comfortable with, such as an hourly rate. Even an introductory consultation with a qualified professional can help reveal any red flags you didn't know were there, and illuminate some of the underlying reasons you behave the way you do around money.
"There's this prevailing thought that money should be unemotional," says O'Leary. "And that's just so unrealistic. Money is highly emotional. It's wrapped up in our fears, hopes, dreams, and how we view ourselves. Those things have very serious implications for our quality of life."
"Becoming aware of your own attitudes, beliefs, and behaviours around money is a really important part of the equation."
Methodology
Data was collected via an online Pollfish survey of 1,200 Canadians ages 18 and older conducted between July 5 and July 8, 2023. An equal number of respondents from each age group were surveyed. The estimated margin of error for a survey of this size is +/- 3%.
Fair Use Statement
If you enjoyed our study on where Canadians get their financial advice, feel free to share it for non-commercial use. We ask that you link back to the original page so our editorial team receives credit for their work.
Inquiries